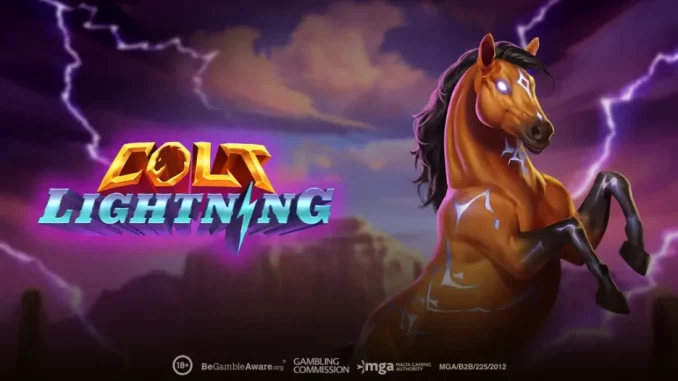 Play'n GO has launched a new online slot game called Colt Lightning, coinciding with a thunderstorm that has rolled across the plains. This game is feature-packed and has a unique layout, providing a classic buffalo game feel with modern twists that Play'n GO is renowned for in its online slots.
In Colt Lightning, a wild horse has been struck with lightning, giving it electrifying powers that play out on the reels. The game is designed to cater to both newcomers and slot enthusiasts, with three features that complement each other throughout the game.
The first feature, Colt Strike, increases the Colt symbols on the reels, making it more likely for players to win even in non-winning rounds. The second feature, Re-spins, is triggered by a horseshoe symbol on reel three, which not only increases the chance of winning but also increases the reel height by one row. This feature can play out up to three times, making it more exciting for players. The third feature, Free Spins, is activated by landing three scatters and allows the Colt to change color and become worth double the points.
Colt Lightning is a visually stunning game that includes electrifying animations and a nod to buffalo games. It is a new addition to Play'n GO's diverse portfolio of games, which includes popular titles such as Beasts of Fire (2021), Safari of Wealth (2022), and Mount M (2022).
According to George Olekszy, Head of Game Retention at Play'n GO, the attention to detail in Colt Lightning is evident throughout the game. The game is easy to follow, and as soon as the animated lightning Colt appears on the screen, players know a feature is about to play out. The choice to have the Colt symbols in a different color during the Free Spins is a testament to Play'n GO's approach to providing player-first entertainment.
In summary, Colt Lightning is an exciting and entertaining game that provides a unique blend of classic and contemporary slot features, sure to appeal to both new and experienced players alike.