Idea -

8.8/10

Graphics -

9.1/10

Audio -

9.2/10

Bonus -

8.6/10
Play Very Hot 40 FREE
Very Hot 40 is an online slot by Fazi with 40 fixed paylines.
Discover the captivating "Very Hot 40," a sizzling Slots Game developed by Fazi that guarantees an exhilarating experience. This thrilling slot game offers players the chance to try it out for free in demo mode or go all-in with real money bets. With an impressive RTP of 96.40% and high volatility, the adrenaline-fueled gameplay unfolds across 40 paylines, providing ample opportunities to hit impressive wins of up to 5000x your wager. Immerse yourself in a classic fruit-themed adventure that was released on August 17th, 2021. Get ready to be enthralled by the heart-pounding action as you spin the reels and chase those extraordinary rewards in the Very Hot 40 Slot!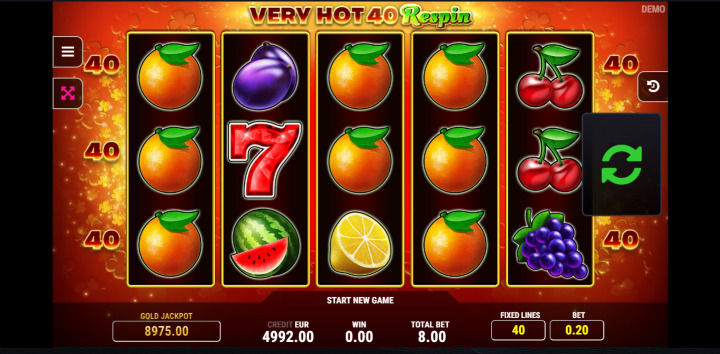 Graphics & Audio
"Very Hot 40" embraces a classic and straightforward theme, reminiscent of traditional fruit machines. While modern slots often employ intricate storylines and elaborate visuals, this game relies on simplicity to charm its players. The reels are adorned with familiar symbols, including cherries, lemons, plums, and oranges, along with lucky sevens and stars, creating a nostalgic atmosphere for both newcomers and seasoned slot enthusiasts.
Visually, "Very Hot 40" delights with its vibrant and crisp graphics, ensuring an eye-catching and polished gaming experience. The user interface is intuitive and user-friendly, allowing players to focus solely on the thrilling action before them. The game's design prioritizes ease of navigation, making it accessible to players of all skill levels.
Very Hot 40 Symbols
At its core, "Very Hot 40" is a five-reel, four-row slot game with 40 fixed paylines. The game follows a conventional format, where players aim to align identical symbols along the paylines to achieve winning combinations. With its medium to high volatility, the game offers the potential for substantial wins, making it all the more enticing for those seeking big payouts.
The standout feature of "Very Hot 40" is its simplicity and speed. The absence of intricate bonus rounds or free spin features allows players to experience an uncomplicated and fast-paced gameplay session. As the name suggests, the game's focus is on delivering a fiery encounter, with the reels spinning rapidly and the anticipation building with each click.
Although the game prides itself on its classic approach, it does incorporate a couple of modern features to keep players engaged. "Very Hot 40" includes a Wild symbol represented by the lucky seven, which substitutes for all other symbols (except the Scatter) to form winning combinations. Additionally, the golden star acts as the Scatter symbol. Landing three or more Scatters on the reels triggers a special Scatter win, adding an extra layer of excitement to the gameplay.
Very Hot 40 Bonus Features
Gamble Feature
For those seeking an extra thrill, "Very Hot 40" presents a classic Gamble feature. After each standard win, players have the option to gamble their winnings for a chance to double their haul. Upon activating the feature, you'll face a simple game of chance, where you must guess the color of a face-down card. Guess correctly, and your winnings are doubled; guess wrong, and you lose your recent earnings. The Gamble feature provides a fiery gamble of nerves and excitement, making it perfect for risk-takers.
Jackpot
While "Very Hot 40" follows a traditional format without elaborate bonus rounds, the game spices up the action with its medium to high volatility. This means that winning combinations, especially those involving Wilds and Scatters, can lead to substantial rewards. With a bit of luck on your side, you can ignite the reels with an impressive jackpot win that leaves you basking in the sizzling rewards!
Conclusion
"Very Hot 40" stands out among the vast selection of online slot games by embracing simplicity and nostalgia while still offering the potential for substantial rewards. With its classic fruit machine theme, streamlined gameplay, and mobile compatibility, this slot game caters to a wide range of players looking for both entertainment and a shot at impressive wins.
As always, players are advised to gamble responsibly and within their means. Whether you're a seasoned slot enthusiast or new to the world of online gambling, "Very Hot 40" promises to deliver a red-hot gaming experience that will leave you coming back for more.