Idea -

8.4/10

Graphics -

9/10

Audio -

8.5/10

Bonus -

8.9/10
Wild Hot 40 is an online slot game developed by Fazi Interactive.
Play Wild Hot 40 FREE
Get ready to embark on an electrifying adventure with Wild Hot 40, a thrilling online slot game developed by FAZI Interactive. Renowned for their cutting-edge creations, this Serbian software provider has once again delivered a unique and innovative gaming experience with Wild Hot 40. Prepare to be captivated by its classic fruit theme infused with exciting twists that are sure to keep you engaged and entertained.
If you're seeking a slot game that offers frequent wins, look no further than Wild Hot 40. With an impressive RTP of 96.60%, your chances of hitting a winning combination are significantly higher. The game features 40 paylines spread across 5 reels, making it effortless to land those winning spins. Moreover, the game showcases a variety of thrilling symbols, each offering generous payouts that can significantly boost your winnings.
What truly sets Wild Hot 40 apart is its inclusion of three progressive jackpots and a myriad of surprises. These exciting elements introduce an extra layer of anticipation and thrill to your gameplay, ensuring you remain thoroughly engaged throughout your session.
Regardless of whether you're a seasoned player or new to the world of online slots, Wild Hot 40 offers an accessible and enjoyable gaming experience. Its low variance ensures regular wins, while the high RTP guarantees a truly rewarding adventure. So get ready to spin the reels and chase those massive payouts in this captivating slot game.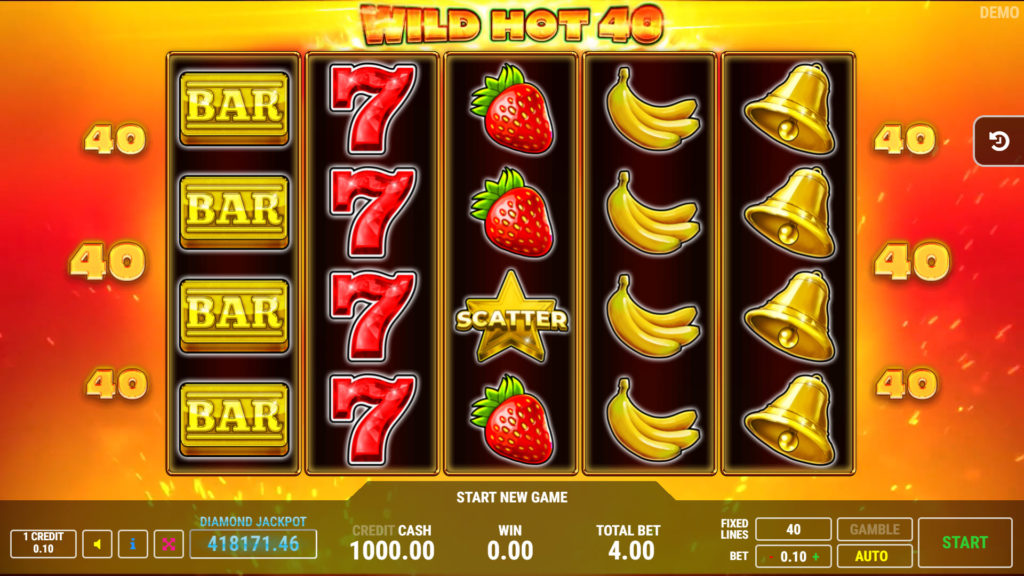 Graphics & Audio
The graphics in Wild Hot 40 are not overly complex or intricate, but they are designed with a clean and easily understandable style. The simplicity of the visuals allows players to quickly grasp the game mechanics without confusion. The animations, while basic, effectively convey important information, such as flashing lights to indicate winning paylines.
In terms of audio, Wild Hot 40 features a lively and uplifting soundtrack that harkens back to traditional slot machines. The sound effects that accompany wins include cheerful jingles and chimes, creating a satisfying experience. Additionally, the spinning and stopping of the reels are accompanied by a gratifying clunking sound.
Although the graphics and audio in Wild Hot 40 may not push boundaries or introduce groundbreaking elements, they serve their purpose well in a classic-style slot machine game. Their functionality and effectiveness contribute to an enjoyable gaming experience without unnecessary complexities.
Wild Hot 40 Symbols
In the thrilling Wild Hot 40 slot game, you'll come across a variety of classic symbols on the reels, including BARs, Bells, Sevens, and a selection of mouth-watering fruits.
Among these symbols, the Wilds hold the highest value and serve as valuable substitutes for any primary symbol, assisting you in creating winning combinations. To secure a win, you'll need to land 3, 4, or 5 matching symbols on an active payline.
Keep an eye out for the Scatter Stars, as they offer payouts regardless of paylines. Landing these symbols can reward you with generous payouts ranging from 5 to 500 times your initial bet. The Big Sevens symbol provides rewards of up to x25, while Wilds offer enticing rewards of up to x10. Bells and BARs provide payouts ranging from x0.50 to x5, and the delectable Strawberries, Bananas, and Apples offer payouts ranging from 0.25x to 2.50x your wager.
With such a diverse array of symbols, Wild Hot 40 offers plenty of opportunities to land winning combinations and boost your winnings as you spin the reels.
Wild Hot 40 Bonus Features
Gamble Feature
After a successful spin, players have the option to take a risk and potentially multiply their winnings with the Gamble Feature. By clicking the "Gamble" button, players are taken to a separate screen where they are presented with a deck of cards. The objective is to guess the color of the next card to be drawn correctly. A correct guess doubles their previous winnings, while an incorrect guess results in the loss of their winnings from the previous spin. It's important to note that the Gamble Feature has a predetermined limit, typically allowing players to participate for a maximum of five consecutive rounds.
Progressive Jackpot
Wild Hot 40 offers an exhilarating chance to pursue three progressive jackpots: Gold, Diamond, and Platinum. These jackpots start with a base value and increase progressively as players place real-money bets across all participating online casinos. The odds of winning a jackpot increase in correlation with the size of the bet placed. Once a jackpot is won, it resets to its initial value and begins accumulating again. The contribution percentage of each bet towards the jackpots is prominently displayed beneath the game grid, indicating the portion of the bet allocated to the jackpots and the remaining portion dedicated to regular game payouts. While the Gold jackpot is won more frequently but offers smaller payouts, the Diamond and Platinum jackpots are won less often but provide significantly larger rewards. The Platinum jackpot, in particular, can award life-changing sums to lucky players. It's important to note that only real-money bets contribute to the jackpot accumulation, and free play or demo versions do not count.
Both the Gamble Feature and the Progressive Jackpot in Wild Hot 40 add an extra layer of excitement and the potential for substantial winnings. Remember to gamble responsibly and enjoy these features wisely, considering your limits and enjoyment of the game.
Conclusion
In conclusion, Wild Hot 40 from FAZI Interactive is a highly recommended slot game that will appeal to enthusiasts of the genre. It offers a smooth and engaging gameplay experience with its classic slot machine charm and rewarding features. While the game has a low volatility, meaning there may be periods of consecutive losses, employing a strategic betting approach can help maximize your chances of winning. It's important to note that the game may have a stronger appeal to high-rollers due to the inclusion of progressive jackpots, substantial payouts, and the exciting Gamble feature. FAZI Interactive has successfully created a slot game that captures the essence of the classic slot experience in Wild Hot 40.