Idea -

9.2/10

Design -

9.5/10

Audio -

9.4/10

Bonus -

9.6/10
Play Fresh Crush slot FOR FREE!
Fresh Crush, the latest slot game developed by Endorphina, is a delightful addition to the world of online casinos. With its vibrant visuals, engaging gameplay, and exciting features, Fresh Crush promises a refreshing and enjoyable gaming experience. In this review, we'll take a closer look at what makes Fresh Crush a must-try slot game.
The slot game Fresh Crush is a bright and refreshing slot game with a fruit theme and classic elements like bells, stars, and other symbols. This slot game features rich graphics and a fun atmosphere. The RTP (Return to Player) level of this game is 96%, which is standard and provides a fair chance of winning. Fresh Crush offers a wide range of features and promises to be entertaining and profitable for slot game enthusiasts.
Eye-Catching Graphics and Design
Fresh Crush immediately captivates players with its stunning graphics and design. The game is set against a backdrop of lush tropical fruit gardens, and the reels are filled with beautifully crafted fruit symbols. The vibrant colors and attention to detail create an inviting and visually appealing atmosphere that adds to the overall enjoyment of the game.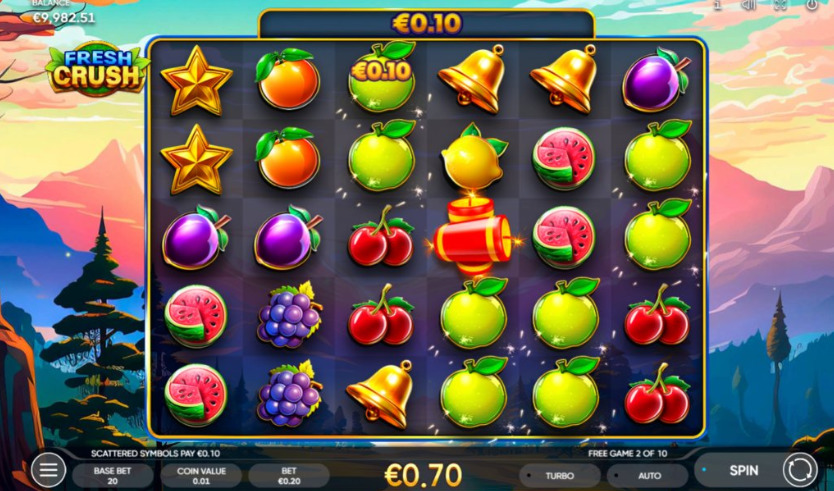 Gameplay and Mechanics
Endorphina has crafted Fresh Crush with user-friendly gameplay that both newcomers and experienced slot players can enjoy. The game features 5 reels and 10 paylines, offering a balanced and accessible betting structure. The intuitive interface allows players to easily adjust their bets and spin the reels with ease.
Unique Bonus Features
Fresh Crush introduces some exciting bonus features that spice up the gameplay.
In the Fresh Crush slot game, the Diamond symbol is like a special symbol. When you get 4 or more of these Diamonds, you get to play a free spins game with 10 extra turns.
During this free spins game, you can find multipliers that make your winnings bigger. These multipliers can be as small as 2 times your win, or as big as 100 times. They stay on the screen until you finish a winning round, and then they add up to make your prize even bigger. There's also something called Firecrackers. If they show up, they blow up all the symbols on the screen, except for the multipliers and Diamonds.
The cool part is that you can win more free spins while you're playing for free. If you get 3 or more Diamonds during the free spins, you'll get 5 extra turns to play.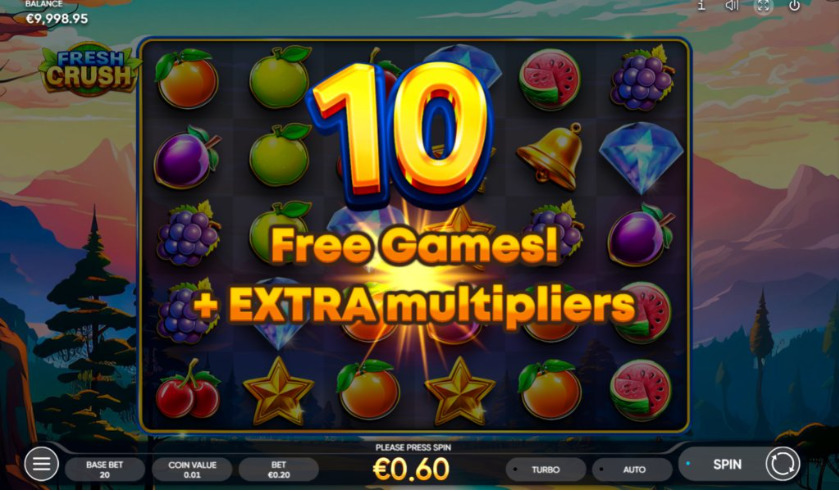 As previously mentioned, Fresh Crush offers a tumbling reel slot game experience. This particular aspect is highly favored by players and you may come across it being referred to as the Cascade feature, Tumbling reels feature, or Avalanche feature. Essentially, the tumbling reels feature provides players with the chance to secure additional wins with just one spin.
When a sufficient number of symbols land on the reels, it triggers the formation of a winning combination. These symbols then pay out and subsequently vanish, creating room for other symbols to descend and occupy the now vacant positions. If these new symbols manage to form another winning combination, a fresh set of symbols descends from above. This cascade continues until no more winning combinations are attainable.
Mobile-Friendly
Fresh Crush is fully optimized for mobile play, allowing players to enjoy the game on smartphones and tablets without compromising on quality. The game runs smoothly on various devices, providing a seamless gaming experience on the go.
Conclusion
Fresh Crush by Endorphina is a breath of fresh air in the world of online slot games. Its captivating visuals, user-friendly gameplay, unique bonus features, and potential for substantial wins make it a top choice for both casual and serious slot enthusiasts. If you're looking for a slot game that combines entertainment and winning potential, give Fresh Crush a spin; you won't be disappointed.