Play Cyber Wolf slot for FREE!
Endorphina, a stalwart in the realm of classic slots, has been a mainstay for what seems like an eternity. With a track record we appreciate most of the time, our expectations for Cyber Wolf were fairly optimistic. Fortunately, the developers once again delivered, solidifying our assertion that this slot is a must-try. While not overly intricate, Cyber Wolf presents a sleek package with all the essential elements. The game grid adheres to a classic structure, featuring 5 reels, 3 rows, and 10 paylines.
Theming itself around wolves, Cyber Wolf takes a futuristic twist, portraying these creatures as cybernetic entities adorned with eye implants, exuding a cool and dangerous aura. The slot's production values surpass the norm, boasting above-average visuals that contribute to an overall enjoyable experience. Cyber Wolf maintains a medium volatility level, with an estimated jackpot of 5,000x your bet—though official confirmation is pending.
While the theoretical RTP of Cyber Wolf sits slightly below average at 96.05%, the consistency in the math model across all online casinos ensures a uniform experience, eliminating concerns about varying RTP ranges or other uncertainties. In essence, Cyber Wolf is a well-crafted slot that combines thematic allure with a satisfying gaming experience.
Graphics & Audio
Endorphina consistently dazzles with its grand displays, and the latest slot release is no exception. The game boasts a visual feast, featuring thrilling graphics that capture the eye and sharp colors that add an extra layer of excitement. The attention to detail is evident, creating an immersive environment for players to get lost in.
Complementing this visual spectacle is a cutting-edge soundtrack that transports players into a futuristic realm. The carefully curated sounds enhance the overall gaming experience, syncing seamlessly with the on-screen action. It's not just a slot game; it's a sensory journey, where every visual element and sound contributes to the intensity of the gameplay.
But it doesn't stop there—animations take the excitement to the next level. Fluid and dynamic, they bring the game to life with every spin and win. From subtle transitions to high-energy sequences, the animations add a dynamic element, making each moment on the reels a captivating spectacle.
Symbols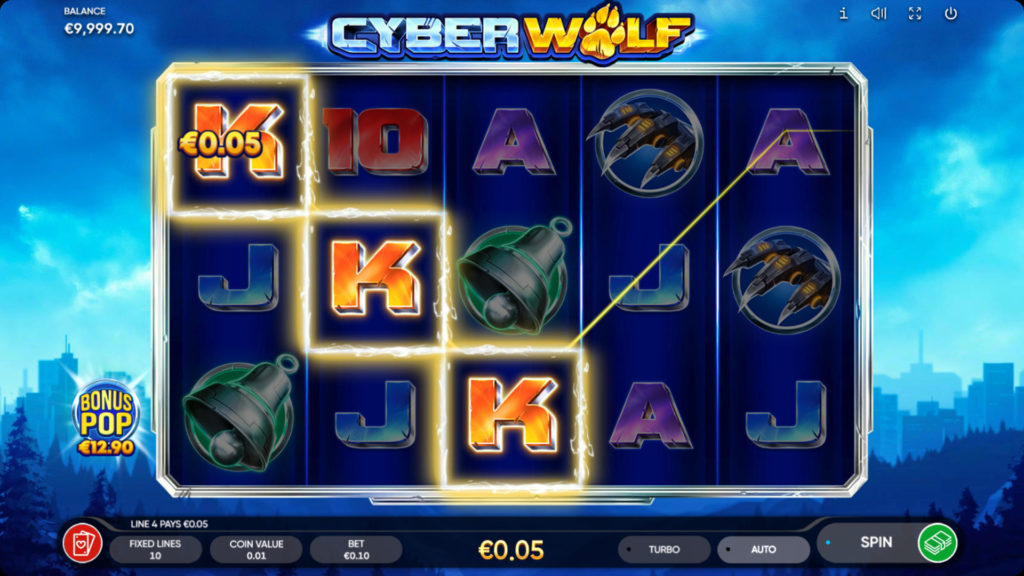 In the Cyber Wolf slot game, a total of 9 pay symbols populate the reels, neatly categorized into two distinct groups. First on the list are the low-paying symbols, showcasing the classic card ranks ranging from Tens to Aces. Among these, Aces and Kings hold the highest value, rewarding players with up to 15 times their bet for achieving a five-of-a-kind combination.
On the flip side, the high-paying symbols introduce a captivating array of robotic claws, bells, sevens, and, of course, cybernetic wolves. Among these, the wolves reign supreme, offering a generous 500x payout for a complete set across the reels.
Beyond these pay symbols, Cyber Wolf introduces two special symbols to spice up the gameplay—Paw Wilds and Moon Scatters. The Paw Wilds play a versatile role, substituting for other symbols and exclusively appearing on the central three reels. A noteworthy feature is their potential to appear in full stacks, enhancing winning opportunities. Meanwhile, the enigmatic Moon Scatters play a pivotal role in triggering the Free Spins feature, adding an extra layer of excitement to the gaming experience.
Bonus Features
Free Spins Feature
Embark on an exhilarating journey with the Free Spins feature, triggered by finding 3 or more Moon Scatters. Revel in 8 free spins as the game designates a random symbol to undergo a transformation into Extra Wilds. Elevate the excitement by filling the designated bars, converting additional symbols into Extra Wilds and earning bonus free spins.
Gamble Feature
For those daring to take risks, the Gamble feature awaits. Differing from conventional options, this feature tasks players with choosing a card from a selection of four to outsmart the dealer. Success doubles your winnings, while defeat results in the loss of all gains (though matching the dealer's card secures your original win). The choice is yours, adding an element of strategic thrill to your Cyber Wolf adventure.
Conclusion
Cyber Wolf stands as a go-to choice among online slots, courtesy of Endorphina's adept design. With appealing visuals, engaging free spins, and a favorable math model suitable for a broad audience, it's a reliable pick. While the game may lack extensive depth, it compensates by offering a delightful experience tailored for shorter gaming sessions. Approach Cyber Wolf with the mindset of a brief, enjoyable interlude, and you're bound to find satisfaction without disappointment!