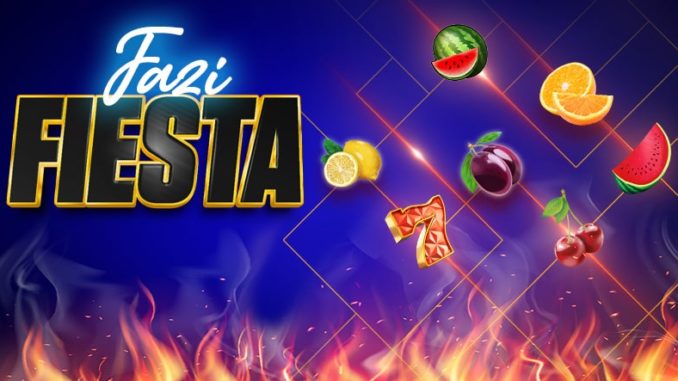 Mozzartbet, a leading online gaming platform, launched an exhilarating promotion called FAZI FIESTA. Starting from the 23rd of June 2023 at 00:00 and running until the 2nd of July at 23:59 Kenya time, this promotion promises non-stop entertainment and generous prizes for Kenyan players.
To participate in FAZI FIESTA, players must engage in a selection of thrilling qualifying games available on the Mozzartbet website. The list of qualifying games includes Wild Hot 40, Fruit Island, Golden crown, Very Hot 40, Mozzart Hot 40, Very Hot 5, Fruity Hot, Turbo Hot 40, Turbo Hot 80, Giga Hot 40, Very Hot 40 Respin, Golden Explosion, Wild Lucky dover, Classic Lucky Spin, Casino Fruits, Crystal Hot 40 Halloween, Bonus Bells, Lollas World, and Very Hot 20. These games are designed to captivate and entertain players as they compete for exciting prizes.
Exclusive to players registered on the Mozzart site, FAZI FIESTA offers a chance to win big with every spin. All spins above 10 KES in the qualifying games automatically participate in the promotion, adding an element of anticipation and excitement to each play. The leaderboard will be determined by the highest value of the total bet amount placed on the promotional slot games. The more players bet, the higher their score will be, increasing their chances of winning one of the fabulous prizes.
In the event that two or more players finish the promotion with the same leaderboard position, the player who achieves that position first will be awarded the higher prize. This rule encourages participants to be quick and strategic, enhancing the competition and intensity of the promotion.
Prizes for FAZI FIESTA will be paid out according to the Prize table, which is provided below and can also be found on the 'Prizes' tab in the qualifying games. The total prize pool for this promotion is an impressive 600,000 KES, making it a highly anticipated event among Mozzartbet players. All players on the Mozzartbet website who have qualifying bets are eligible to win a share of this generous prize pool.
Prize Table:
1st place: 1 prize of 140,000 KES
2nd place: 1 prize of 80,000 KES
3rd place: 1 prize of 50,000 KES
4th-5th place: 2 prizes of 30,000 KES each
6th-10th place: 5 prizes of 20,000 KES each
11th-30th place: 20 prizes of 4,000 KES each
31st-50th place: 20 prizes of 2,000 KES each
51st-100th place: 50 prizes of 1,000 KES each
Once a prize has been won, it cannot be changed or transferred. Players can look forward to receiving their winnings automatically in their accounts after the promotion has ended or within 72 hours following its conclusion, ensuring a seamless and efficient payout process.
It is important to note that Mozzartbet reserves the right to amend, cancel, reclaim, or refuse any promotion at its own discretion. This commitment to fair and responsible gaming ensures a secure and enjoyable experience for all participants.
Players are encouraged to visit the Mozzartbet website for more information about the FAZI FIESTA promotion. Get ready to embark on a thrilling adventure filled with exciting games and the opportunity to win incredible prizes. Don't miss out on the FAZI FIESTA, exclusively at Mozzartbet!