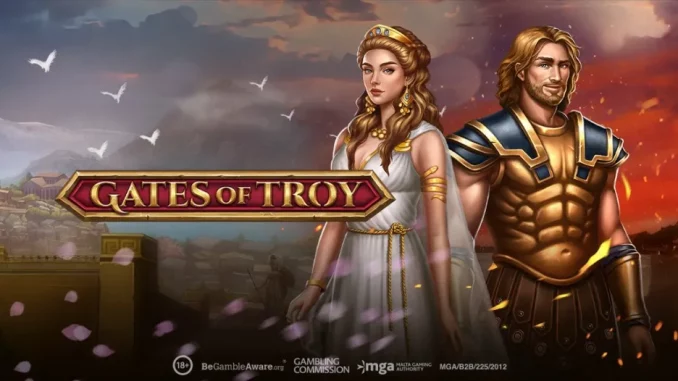 The game's story is inspired by the Trojan War. Players assume the role of Achilles leading his soldiers to infiltrate the city of Troy. It's not a simple task, as the city has tough defences. 20 soldiers must board a Trojan Horse to sneak into the hidden metropolis and claim Troy's treasures.
Gates of Troy is a classic 5-reel online slot that features an array of dynamic symbols that whirl across the reels.
During the game, the focus is on getting to the Free Spins round which is achieved by landing three Scatters, then you'll be transported past Troy's fortified entrance.
The number of Free Spins is tracked by the Trojan Horse at the top of the reels. Every Wild that lands during the round leave a frame, and at the final Free Spin, all the Wilds are added back to the reels. 2x Multiplier Wilds will also land randomly during both the base game and Free Spins increasing potential further.
It's no secret that Greek Mythology is popular amongst both the online slot community and the pop culture zeitgeist overall. Gates of Troy's designers have beautifully interwoven the game's narrative with its features for a game that has the potential to stand the test of time.
The game's audio and visual presentation is a triumph. With bold, immersive sound design and iconic characters, the game places players in reel ancient warfare. Coupled with smooth animations, Gates of Troy is a classic in the making.
Head of Games at Play'n GO, Charlotte Miliziano, said:
"Our previous titles based on Greek mythology have been well-received – the setting provides lots of visual flair and storytelling avenues.
"We think Gates of Troy perfectly embodies what Play'n GO's audience wants. Fun."