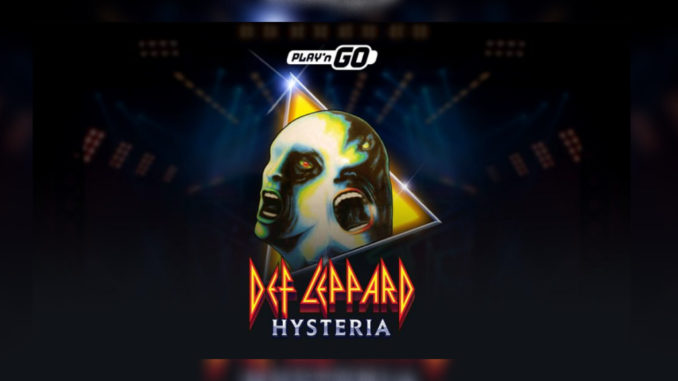 Play'n GO's impressive portfolio of music slots grows further with their latest title, Def Leppard Hysteria. You can play it at the best online slots site Kenya.
It's the concert of a lifetime and Def Leppard is pulling out all the stops as they perform iconic hits from their bestselling album, Hysteria. Lose yourself in a time when dreams were as big as the hairstyles.
Not only is this an obvious choice for existing fans of Def Leppard, but the band is also renowned for their sci-fi aesthetics. Becoming popular across the 80s and 90s also lends to the retro feel that players enjoy. Especially in recent times the draw towards more nostalgic content has been on the rise.
It's worth noting the innovative visual sync with the Pour Some Sugar on Me feature. The player's goal is crystal clear, they must unlock the 'sugar' which is hidden behind the grid. Inspired by one of the bands most famous songs, Pour Some Sugar on Me, the Pour Some Sugar on Me feature visually syncs with how the symbols act on the grid, dropping to the bottom of the grid as if pouring sugar.
Game designers have remained true to the band's iconic aesthetic in every detail of the game, down to the charge metre that has a triangular design as a subtle nod to the Illuminati-inspired Hysteria album cover.
Much like Play'n GO's Alice Cooper and the Tome of Madness, Def Leppard Hysteria is designed to create the experience of being at a live concert. Several songs from the infamous Hysteria album play throughout the game set on a staged backdrop with lights.
Head of Games, Charlotte Miliziano said:
"Our collaborations with iconic artists such as Def Leppard continue to prove popular with players everywhere – and their amazing fun to work on too.
"Not only is this great for music and slot fans alike, but it gives us amazing inspiration on how we can push our features further. Like with the Pour Some Sugar on Me feature, it's all about visuals, clear goals and most of all, entertainment."