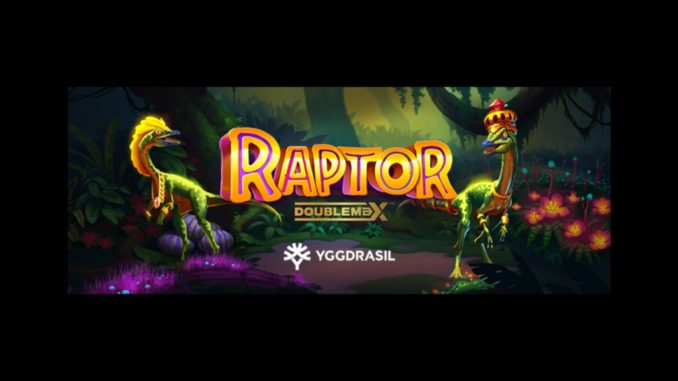 Yggdrasil, the leading worldwide publisher of online gambling content, has released its latest slot game, Raptor Doublemax™.
The high volatility game is set in a world before humans when great dinosaurs roam the earth competing to be top of the food chain. Players join the hunt for these bipedal beasts to go large or go home, through the game's ferocious features.
The 25 payline hit features cascading reels, with more giant dinosaurs dropping into view after a win, as well as the removal of all winning symbols, giving players even more chances to find riches. After every single win an extra wild card is also added with this dropdown feature.
Landing three or more scatter symbols triggers free spins, giving the players the option to gamble before using the free spins. Winning the gamble awards more free spins, whilst losing demolishes those earnt, and the hunt continues.
More opportunities to win big occur in this 5-reel slot, when the player enables the golden bet. This golden bet increases the stake by 25%, whilst doubling the chance to trigger free spin doubles. The battle continues, as does the high pay-outs, with every consecutive win doubling the multiplier with no limit.
In certain jurisdictions, free spins are also available to purchase throughout the game.
Stuart McCarthy, Head of Product and Programs at Yggdrasil, said: "Raptor Doublemax™ gives valiant fans a chance to demonstrate power and determination as they gamble for more in this enrapturing slot, with the constant chance to win huge prizes. With the dropdown feature of the game, wild symbols occur more often, as does the chance to secure more wins. Raptor offers a truly exciting and player centric mechanical experience, and I am confident that Raptor will resonate well with our partners, and their player communities "