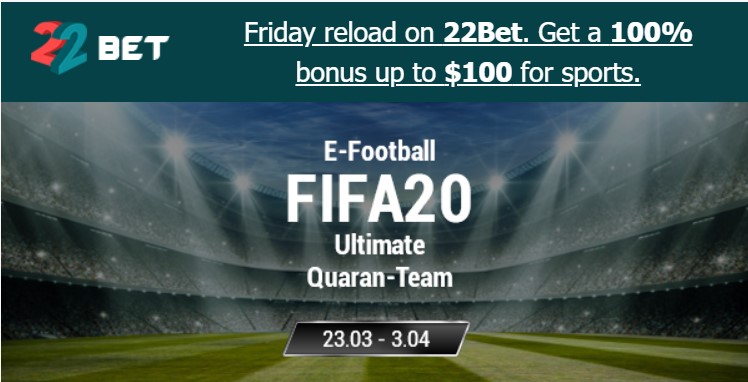 La Liga seems to have set quite the precedent. In light of numerous sporting events getting cancelled, a FIFA 20 virtual football tournament was held in Spain, garnering a great deal of attention from sports fans around the world. Real Madrid won, or, to be more precise, Marco Asensio did. Having picked up a gamepad, he defeated the striker for Leganes, Ruibal, in the final (4:2). And right after that, another 128 teams from all over the world announced their participation in a new, much larger-scale tournament!
FIFA Ultimate QUARAN-TEAM is a virtual championship with 128 clubs from different countries, leagues and even divisions. There are numerous top teams among the contenders for the cup: Manchester City, Roma, Olympic, Ajax, Benfica and many others. However, one of the favorites right now are the unpretentious Sheffield Wednesday, represented by a pro-gamer Tom Delee, who has repeatedly won in virtual FIFA tournaments in recent years. The strength of each participant is no longer determined by the budget and presence of a star coach. Each club is represented by one gamer, it can be a player, a team employee, or just a fan!
And this is where the intrigue begins. The tournament was spearheaded by Leighton Orient Club, one of England's oldest football teams. In the very first round, the team was defeated by Lokomotiv Moscow. Playing for the Russians is a club fan, a gamer nicknamed Ufenok77, who beat Leighton goalkeeper Sam Sargeant. Teams that also can count on something (in spite of their not-so-stellar lineup) include, for instance, Mansfield Town and Sunderland. Playing for the former is a professional gamer AC_Redlax, for the latter – Futwitz_DAN, quite famous in FIFA. But let's not forget major teams also have something to put up against all that. Ajax happens to have their professional cyber football lineup, and so do Wolverhampton and Benfica.
There are also quite a few real football players among the participants, capable of great possession of their gamepad comparable to ball possession in the pitch. Todd Cantwel is playing for Norwich, West Bromwich is represented by Callum Robinson and these are just a couple of examples. The tournament has already started and will be divided into 7 rounds, with the final game to be held on April 3. The winner will be determined in a series of matches played up to 3 victories. And this, of course, is a unique and exciting competition in which both gamers and professional football players fight on equal terms.
Football is still alive and kicking, treating fans around the world to spectacular games! All FIFA Ultimate QUARAN-TEAM matches can be found in the 22Bet line.